When you want results … Post your job opportunity on the Municipal World Job Board
---
Need somebody fast? Deadlines looming? Advertise your STAFF WANTED position on the Municipal World Job Board. There is no better way to reach qualified municipal professionals from across the nation.
Post your job
Our affordable job posting packages let you target your message to qualified candidates from across Canada. In addition to posting the opportunity on our high-traffic website, you can also opt to have a notice and link of your advertisement broadcast nationally to over 10,000 professionals via MWXtra – our weekly e-mail update service. The combination of the web posting and the email newsletter service is an excellent way to reach a wide scope of potential candidates all across the nation! Social media promotion can also be part of the marketing mix, with promotion through our Job Board Twitter feed at http://www.twitter.com/MunicipalJobs. No other job posting service matches this range of job board features and services.
And now, all job posts are included in Municipal World's Job Board App at no additional cost! Learn more ...
More choices to suit your budget and unique hiring needs!
1. Basic Job Posting:

$399
One 30-day job posting on municipalworld.com.
---
2. Recruiter Package:

$449 (Great Value!)
one 30-day job posting
one week advertisement in the MWXtra email*
one Tweet promoting post
* Extension for additional week in MWXtra email – $19.
---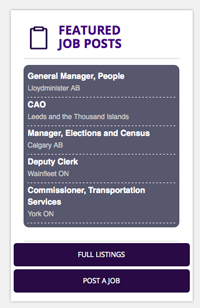 3. All-Inclusive Package:

$549 (Best Exposure!)
one 30-day job posting
one week advertisement in the MWXtra email, listed in "Featured Jobs" section*
one Tweet promoting post
highlighted for 7 days at the top of the job board in the "Featured Jobs" section*
Once the position is filled, an announcement about your new hire to be published on the On the Move career announcements page for a minimum of 30 days**
a special tweet linking to the career announcement.
* Option to extend the "feature post" listing for another week for $149 (includes additional week in MWXtra email).
** Announcement includes 125-words of text, full colour head shot of new hire/appointee.
---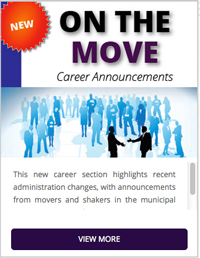 4. Executive Level Package:

$799 (The Ultimate in Peace of Mind)
Includes all components from All-Inclusive Package, PLUS:
Listed as a featured post for the duration of the posting;
Additional 30-day extension at no additional cost, if required;
a 1/3-page, full colour printed announcement in Municipal World magazine, in the edition of your choice;
a 1/3-page, full colour announcement in MWDigest digital edition.
Announcements include 125-words of text, full colour head shot of new hire/appointee, and – in the magazine announcement – the municipality's official logo.
For immediate posting
Email your job posting or career announcement to hr@municipalworld.com for an immediate listing. You will receive an email confirmation, within a few hours (depending on the time and day it is received), advising that your ad has been posted.
---
What our clients are saying …
"Thank you for being so quick with our postings as always. It is greatly appreciated." – Seema Kanwal, Director, Research Pinton Forrest & Madden
"I have received over 400 applications and I think that is quite enough!" – Shelley Molica, Ontario Association of Fire Chiefs, Ajax ON
"I was very pleased, having used your service [to advertise a CAO position in Ontario], to receive a resume within one hour of the job being posted on your website." – Hugh Thomas of Hugh Thomas Consulting
"Thanks! You folks are really fast! I only wish all websites that I post to were as fast and as convenient as yours." – Gary Little, Ayaya Marketing and Communications
"In response to a recent advertisement on the Municipal World website for a Chief Administrative Officer in Alberta, our firm had over 50 applications, with over 40 from outside the Province and from as far away as Nova Scotia and the United States." – Dimitri Pojidaeff, HR Group Management Consultants
"We have filled the position of Manager of Public Works for the Town of Didsbury. Thank you for your assistance in our recruitment as the successful candidate did find the posting on your website." – Darren Reedy, Town of Didsbury AB
"Thanks, You always make these posts look great." – Leilah Vayid, Tamm Communications
"I just went into your website and job page – it looks amazing. I must say, you are great – so very quick and extremely customer service oriented – I truly appreciate it." – Felix Global Corporation
"We will not have to extend this posting. Thanks for the opportunity. I am very impressed with the response we received due to your website and publication. I will be utilizing your services in the future and have already recommended this to other municipalities. That is also how I found the posting for my current position as City Manager back in November of 2010." – Dave Burgess, Winkler MB
---
Municipal World Magazine – For added coverage, you can also advertise your JOB or STAFF WANTED positions and SURPLUS items in the Municipal World magazine. When you place your job ad in the magazine, it is also included here at no additional charge. For information on advertising in the Municipal World magazine, email us or see the advertising information on this website. You can also call us at 1-888-368-6125, ext. 211 for more information.