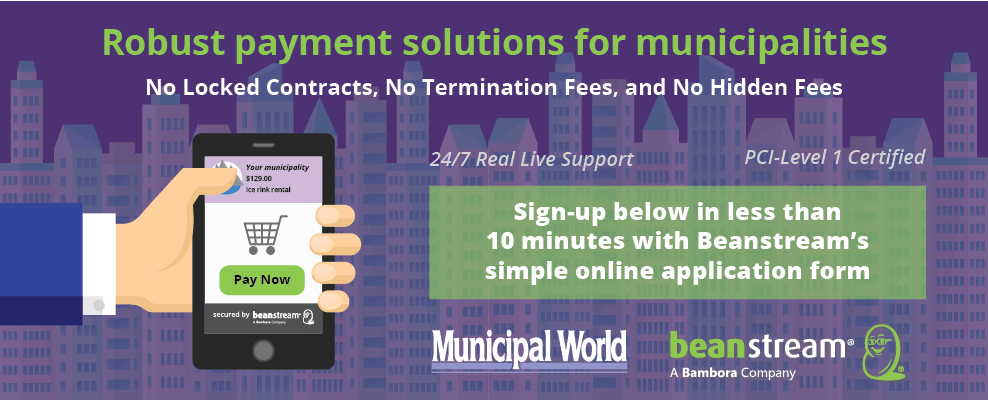 Payment Tools for Any Municipality
Now, Municipal World is partnering with Beanstream to bring municipalities secure, convenient payment solutions – with exceptional pricing.
As a premiere partner, Beanstream®, a Bambora Company, is offering preferred pricing through Municipal World's client network. With a wide breadth of services, from accepting payments online, to collecting in-person payments via their mobile point of sale, Beanstream offers one of the most secure payment platforms available. Whether you are on the road collecting payments from the far reaching corners of your municipality, or simply wanting to collect equal monthly payments online for property taxes, Beanstream can help.
Beanstream is part of the Bambora company, the world's largest startup with the simple mission to simplify trade between people.
Merchants only need to apply once, other currencies can be added after you are approved.
NEXT STEPS
Step 1: Choose your payment package below and create a new account with Beanstream.
Step 2: Complete the online application
Step 3: Approve email from Beamstream to activate your account when you are ready to go live.
INCL. GATEWAY, RISK SCORING, REPORTING, AND TOKENIZATION

Pay-as-you-go – Fixed Pricing
2.5%
+ 30¢ per trans
APPLY NOW
High Volume – Fixed Pricing
2.5%
+ 20¢ /trans
+ $20 / mth
Already have a merchant account? Are you processing over $100k CAD Visa, $100k CAD Mastercard, and $500k CAD AMEX annually? Please contact municipalworld@beanstream.com to see our other pricing packages.
---
About Beanstream
Beanstream has over fifteen years of experience in helping businesses of every size receive and make payments quickly and securely. As your business grows, Beanstream can grow with you, keeping you plugged in no matter what merchant account you have. When you sign up with Beanstream you gain access to their complete payment portfolio including card present, card not present, tokenization, and recurring billing while being mobile and web compatible. Join over 22,000 merchants who rely on Beanstream and let them be Your Partner in Payments®.