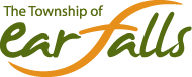 Manager of Public Service & Operations
Township of Ear Falls
Ear Falls is located in the shores of famous Lac Seul and the English River, which offers residents and visitors with a spectacular playground that is enjoyed year round. We are extremely proud to offer world class fishing and hunting right at our doorstep.

The Township works hard to ensure this community is well serviced and positioned for future development. Whether you are here for a lifetime, or just for one day, you will be struck by the beauty of the region, and impressed by the modern town that lies in the middle of the Canadian wilderness. Ear Falls is a beautiful place to live, work and play.
JOB DESCRIPTION
The Township of Ear Falls is seeking a Manager Public Service & Operations with strong leadership skills to join our management team. Reporting to the Clerk-Treasurer Administrator, the Manager Public Service & Operations is an integral member of the management team.

The successful candidate will be responsible for implementing all assessment, maintenance, construction and operation of the Municipal Road Network, Water and Sewer Treatment Plants, Water and Sewer Distribution System, Waste Disposal Site, Cemetery, Parks, Golf Course, and all Municipal buildings / facilities and parking lots (Ear Falls Government Building, Community Health Centre, Recreation Centre, Public Service and Operations Shop, Wellair Building, Dog
Pound etc.) in accordance with approved budgets, the maintenance and deployment of all works tools, vehicles and equipment, supervising Public Service and Operations employees, ensuring a safe and healthy workplace.
The ideal candidate will bring to the position:
Class DZ Driver's License in good standing;
Minimum three years' experience in a management position (preferably in a municipal public works environment), with demonstrated skills in preparing and monitoring capital and operational budgets, employee supervision in a nonunionized environment and public relations;
Strong customer relation skills and experience working with a broad range of community groups and organizations and the general public;
Effective interpersonal, oral, and written communication, time management, report writing and information technology skills.
Working knowledge of Workplace Health and Safety and WHMIS legislation.
Proven ability in the operation of Municipal equipment.
Additional assets we will consider are:
Certified Roads Superintendent designation

The salary for this full time management position will be commensurate with qualifications and/or experience.

Please reply with a compelling cover letter; Comprehensive resume; Salary history; and three (3) professional references. Confidential
Posting open until filled

Inquiries welcomed to Mr. Glen Smith. glen@ravenhillgroup.com. 1-888-447-5910 ext. 705