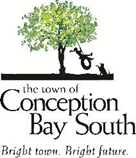 Chief Administrative Officer (CAO)
Town of Conception Bay South
Home to over 26,000 residents, Conception Bay South is the second largest municipality in Newfoundland and Labrador. Located on the south side of Conception Bay, the Town is strategically located just minutes from the province's capital city, St. John's. While residential growth continues to increase, the Town has a strong sense of community pride and continues to provide residents with a superb quality of life and some of the best weather the province has to offer. Combined with a successful business community, Conception Bay South proves to be a great place to live and do business.
The Town is welcoming applications for Chief Administrative Officer and is seeking a proven leader to provide overall management and vision of the Town. This position provides leadership and strategic direction in the planning, organization, coordination, control and direction of the total affairs of the Town in accordance with policies and guidelines determined by Council under the provisions of the Municipalities Act. The Chief Administrative Officer is responsible for the management of a $37 million budget and a dedicated senior leadership team who oversee the six departments within the Town, staffed by over 200 unionized and non-unionized employees.
As a dynamic and innovative leader, the Chief Administrative Officer will be a demonstrated team player and a strategic thinker who is comfortable working in a publicly accountable environment. Excellent communication and human resource skills coupled with sound political judgment are required. Working with a strong knowledge of applicable provincial and federal codes, regulations and laws, the successful applicant will have a demonstrated ability to manage within communities dealing with growth and change and possess a proven track record of demonstrating capabilities as a senior executive. The ideal candidate will possess relevant academic qualifications along with significant senior leadership experience, with proven capabilities in project management, budgeting, and best work practices and methods applicable to a municipal setting.
The successful applicant must provide a copy of official educational documents confirming education requirements, employment references, a Certificate of Conduct and Drivers Abstract prior to commencement.
COMPENSATION:
Competitive Salary
In addition to competitive salary we offer:
Health Benefits Package
Pension Plan
Training and Development Opportunities
CLOSING DATE: October 31, 2017 at 4:30 PM
SUBMIT TO: Interested applicants may apply, in confidence, by submitting a cover letter and resume to:
HR Coordinator
11 Remembrance Square
PO Box 14040, Stn Manuels
Conception Bay South, NL A1W 3J1
Fax: 709-834-8337
Email: caorecruitment@conceptionbaysouth.ca
The Town of Conception Bay South is an equal opportunity employer.
We thank you for your interest, however only those individuals selected for an interview will be contacted.