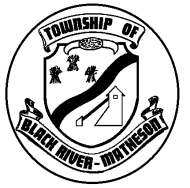 Chief Administrative Officer/Economic Development Manager
Township of Black River-Matheson
Job Posting: 2017-01
Compensation Package: Commensurate with Experience and Qualifications
A detailed job description is available on the municipal website. All requests, inquiries and discussions will be handled in total confidence.
Please send your resume, including cover letter to:
Township of Black River-Matheson
429 Park Lane, P.O. Box 601
Matheson, ON
P0K 1N0
Attention: Miss Cassandra Child
(Tel) 1-705-273-2313
(Fax) 1-705-273-2140
(Email) treasurer@blackriver-matheson.com
Competition closes at 4:30 p.m. on Wednesday, October 4, 2017.
We thank all the applicants for their interest, however, only those selected for interview will be contacted.
The Township of Black River-Matheson is an equal opportunity employer that is committed to inclusive, barrier-free recruitment and selection process and providing accommodations for people with disabilities. If you require an accommodation, we will work with you to meet your needs. Accommodations may be provided in all parts pf the hiring process.