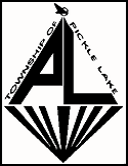 Clerk-Treasurer
Township of Pickle Lake
The Township of Pickle Lake is seeking a candidate for the position of Municipal Clerk-Treasurer. We require a results oriented professional who is committed to teamwork, excels in tax collection, accounting procedures and other legislated responsibilities of the office. Reporting to the Council for The Township of Pickle Lake, the Clerk-Treasurer is an integral part of the Township's Management Team.

The Clerk-Treasurer carries out a broad range of legislative responsibilities; administers and oversees all municipal financ-es; recommends long-term strategies for the financial management of the municipality; provides monetary and budgetary advice to Council; in conjunction with the senior management team, prepares the annual budget for presentation to Council; calculates tax rates; applies all relevant policies and procedures to the overall management of the municipality's finances. As well, the incumbent will prepare and implement annual business plans, manage the Municipality's Human Resources, administer all Council Meetings, liaise with other Levels of Government, prepare various Reports and carry out or oversee other functions of the Office.
The preferred candidate should have:
• Experience conducting municipal elections,
• Post secondary education (Diploma/Degree) in accounting, financial or business management, administration,
• A solid understanding of municipal taxation and assessment legislation,
• Municipal finance and capital/operating budget experience,
• Familiarity with Economic Development procedures, principles and funding sources,
• Highly proficient computer skills including municipal related software,
• Capital Asset Management accounting experience an asset,
• Payroll administration and general ledger analysis experience an asset,
• Recognized Certification/Accreditation in senior municipal administration, such as from AMCTO, will be preferred,
• Strong communication skills, both spoken and written, combined with superior organizational/analytical skills.
Criminal record check is required

Salary range is dependent upon qualifications and experience and includes a competitive benefit package.
Confidential resumes will be accepted until January 31, 2018 at 5:00 pm, by mail, fax or email as a PDF attachment. No phone calls will be accepted. Please clearly indicate the competition number on your correspondence.
We thank all applicants. However, only those selected for an interview will be contacted.

Submit resume to:
Township of Pickle Lake
2 Anne Street, PO Box 340
Pickle Lake, ON P0V 3A0
Email: reception@picklelake.org
Fax: 807-928-2708

Personal Information collected for this competition will be used solely to determine the eligibility for employment and handled in accordance with the Municipal Freedom of Information And Protection of Privacy Act. As per the Accessibility for Ontarians With Disabilities Act, applicants with disabilities are encouraged to apply. Please visit our website at www.picklelake.org for more details on our Accessibility and Accommodation Policy.