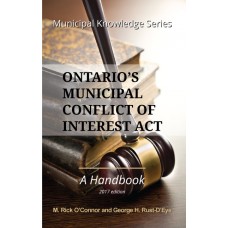 Ontario's Municipal Conflict of Interest Act – a handbook
2017 edition (includes minor amendments to legislation in Appendix B)
A practical handbook to the municipal conflict of interest law in Ontario. Includes chapters on identifying conflicts of interest; exceptions; statutory duties of members; court proceedings; practical/legal strategies; a quick checklist of "Things You Need to Know"; Appendix A – List of Cases; and Appendix B – Municipal Conflict of Interest Act. Short case summaries tell you what the courts decided in various situations – and why.
Listen to George H. Rust-D'Eye talk about the statute, and why it's important for elected officials to read and understand it.
ABOUT THE AUTHORS
With almost 30 years of municipal law experience, M. Rick O'Connor, C.M.O., M.A., LL.B. has spent the last decade as the City Clerk and Solicitor for the City of Ottawa. The author of numerous legal articles and books, and a well-known speaker on various municipal issues, Rick has participated in many initiatives on behalf of the Association of Municipalities of Ontario, the Ontario Good Roads Association, as well as the Association of Municipal Managers, Clerks and Treasurers of Ontario. Rick holds a Certified Specialist (Municipal Law: Local Government) designation through the Law Society of Upper Canada, and was recognized in 2013 with the Queen's Diamond Jubilee Medal for his leadership in the evolution of open and accountable public administration in Ontario.
George Rust-D'Eye is one of Canada's leading municipal lawyers. Called to the Bar of Ontario in 1971, he has practised municipal law since 1973. Currently in private practice, he also works as a free-lance integrity commissioner and lobbyist registrar for municipalities and local boards. In 2007, he was awarded the Ontario Bar Association's Award of Excellence in Municipal Law. He was one of the first lawyers in the Province designated by the Law Society of Upper Canada as a Certified Specialist in Municipal Law. He has served in important capacities for a number of public bodies, including as Metropolitan Solicitor for the Municipality of Metropolitan Toronto, and as Chair of the Toronto Historical Board. He has also been retained and consulted from time to time by the Province of Ontario, for the drafting and amendment of legislation.
---
Other Ways to Order

​
Ontario's Municipal Conflict of Interest Act - a handbook - Item 0050
Product Code: 0050/
ISBN: 978-0-919779-
Availability: In Stock
$29.95

---

50 or more $26.96
100 or more $25.46
Tags: ontario, municipal, act, conflict, interest, rick, oconner, george, rust-d'eye, 0050