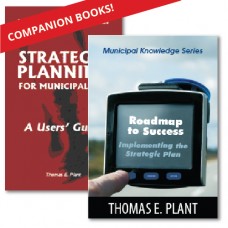 Too often, strategic planning is seen as a complex process, involving only senior management in the design and production of a glossy strategic plan document that is used infrequently in the running of the municipal operation. But, strategic planning has the potential to be a powerful process that catalyzes the municipal organization, bringing together the public, staff and management in the development of a common vision, direction and goals.
For a limited time, Municipal World is offering the two strategic planning guides by Thomas Plant at a special discounted rate. The package includes:
Strategic Planning for Municipalities: A Users' Guide (Highlights include chapters on the role of senior management, involving stakeholders, do's and don'ts of strategic planning, and many more.)
Roadmap to Success: Implementing the Strategic Plan (This book demonstrates the importance of developing a vision and clear goals, to provide a roadmap for the municipal organization and guide service delivery to the public. As well, it provides a checklist of the fundamental components of a successful planning process.)
Regular Price: 59.90 + tax
For a limited time, only $44.95 + tax - You save $14.95
Published in Canada by Municipal World, Inc.
---
Other Ways to Order

Plant Strategic Planning Package - Item PLANT
Product Code: PLANT
Availability: In Stock