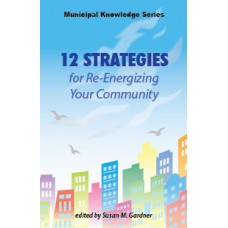 12 Strategies for Re-Energizing Your Community
Municipalities of all sizes face questions and challenges for growth, while working to maintain the vibrancy and innovation necessary to be at the forefront of an increasingly competitive global community. Local leaders know that the choices they make today will have a lasting impact on the community of tomorrow. They are forced to make difficult decisions, balancing the need for innovation and challenging the status quo with sound, trusted policies to ensure that citizens' needs and concerns are met. In order to best serve the community, both today and into the future, municipalities need to be creative and resourceful, considering new options and different ideas and working with citizens to find new, unique, and viable ways of addressing these issues.
This book features a carefully-selected collection of strategies, case studies and best practices, culled from past issues of Municipal World magazine and written by renowned experts in a variety of fields. It is intended to help reenergize local communities by providing insights and experiences from across Canada and around the world. 12 Strategies brings together diverse perspectives on community revitalization, to help leaders identify potential opportunities and to inspire new ways of thinking about local challenges.
Includes insights from the following authors:
Susan Gardner, Municipal World
Erin O'Hoski, Regional Municipality of Niagara
Gareth Potts, The New Barn-Raising
John Longbottom, IBM
Carol Cowan and Michel Gauthier, Canadian Garden Council
Gord Hume, Hume Communications
Brenda Herchmer, Campus for Communities
Natalie Bull, National Trust for Canada
Brock Dickinson, MDB Insight
David Van Seters, Sustainability Ventures; Janine de la Salle, Urban Food Strategies; and Jeanette Southwood, Engineers Canada
Robert Voigt
Lia Ghilardi, Noema Culture and Place Mapping
---
Other Ways to Order

12 Strategies for Re-Energizing Your Community - Item 0012
Product Code: 0012/
ISBN: 9781926843124
Availability: In Stock
Tags: Community Revitalization, Technology, Environment, Planning, Economic Development